2020年03月19日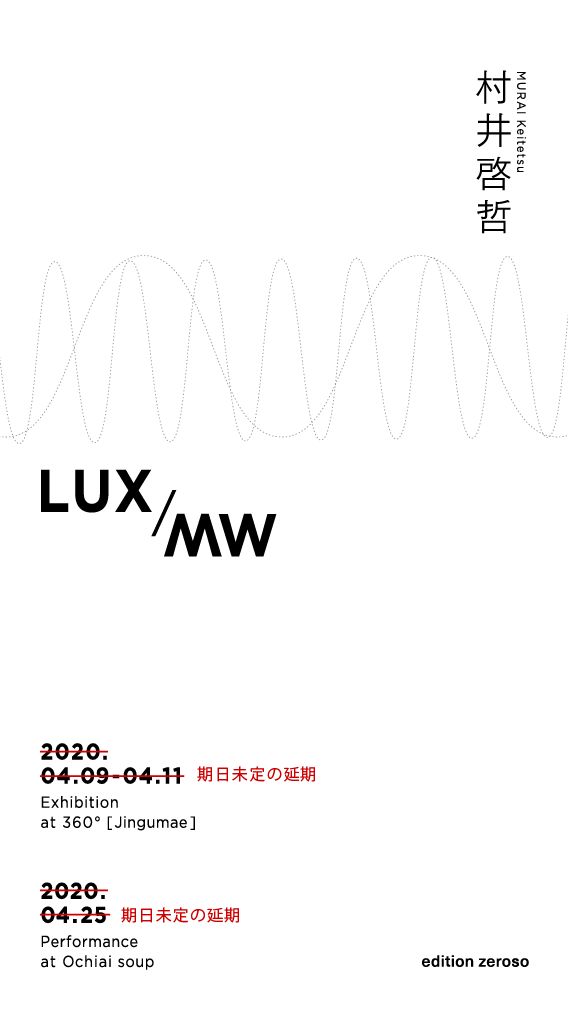 会場:360° [神宮前]
150-0001 渋谷区神宮前3-1-24 ソフトタウン青山1F
TEL : 03-5410-2350
主催:0奏
Lucent(光輝)他2作品展示
※3日間とも作家が在廊し作品解説をします。
0奏は、村井啓哲によるマルチプル作品『LUX/MW(ひとりの聴き手のための)』(edition zeroso ZRE-001)を発行する。
ロウソクの灯火のゆらぎを音に聴く装置である。初回サイン入り限定10部。
村井啓哲
1962年東京生まれ。主に自作を含む電子回路/機器の反制御的操作によるサウンド・パフォーマンスを行う他、過去にいくつかの視覚的作品も発表している。またフルクサス参加作家のイベント・インストラクション、ジョン・ケージの非五線記譜法による非器楽曲などの解釈/演奏も行う。展覧会/イベント等の企画者としては、1991年から1993年までP3 art and environmentに於いてサウンド・インスタレーションを紹介する年次企画を担当、また2007年から2012年まではジョン・ケージの生誕100年に向けたコンサートをニシジマ・アツシと共同で展開した。その他GALLERY360˚主催のフルクサス関連イベント、同画廊が発行するマルチプルの意匠等にも関与している。
MURAI Keitetsu Exhibition - LUX/MW
9tn -11th April
at 360°[JINGUMAE]http://360.co.jp/exhibition-jp/current/
edition zeroso will be published MURAI Keitetsu's multiple-edition "LUX/MW - for an audience of one "(ZRE-001) on April 2020 (1st edition of 10 signed and numbered copies). "LUX/MW" is a device that listens to the fluctuation of the candlelight.
MURAI Keitetsu (Hironori)
Born in Tokyo in 1962. Focusses on sound performances utilizing anti-control operated electronic circuits and devices, some of which are handmade. Formerly exhibited visual work. Has also performed and published interpretations of event installations by Fluxus artists, and of John Cage's abstractly notated non-instrumental music. As a promoter, curated annual programes of sound installation work at P3 Art and Environment between 1991 and 1993. Also curated concerts together with Atsushi Nishijima to the mark the 100th anniversary of John Cage's birth, from 2007 to 2012. Has also worked on Fluxus-related events at GALLERY360˚ and has designed multiples published by the same gallery.